B K S Iyengar Yoga Studio
"Yoga is a light which, once lit, will never dim. The better the practice, the brighter the flame."
- B.K.S. Iyengar
Following the latest advisory from Sport Singapore on 18 August 2021, vaccination differentiation safe management measures (VDS) have been applied at our studio from 21 August 2021 onwards. Our primary responsibility is to continue to safeguard everyone who visits BKS Iyengar Yoga Studio.
Welcome to BKS Iyengar Yoga Studio
at 465 Crawford Lane Singapore
(Closely located to Lavender MRT)!
Here we discover, learn and grow together
The accessibility of Iyengar Yoga to everyone is the ground why it is one of the most famous styles of yoga worldwide. We are certified and directly endorsed by Ramamani Iyengar Memorial Yoga Institute (RIMYI) to dedicate our teachings with using the name of Iyengar Yoga.​
We teach to improve student learning in order to enable students to perform the asanas in a correct way, Iyengar yoga employs various props such as ropes, chairs and blocks. We don't limit our class to specific prop or flow so that students receive the greatest benefits out of their learning.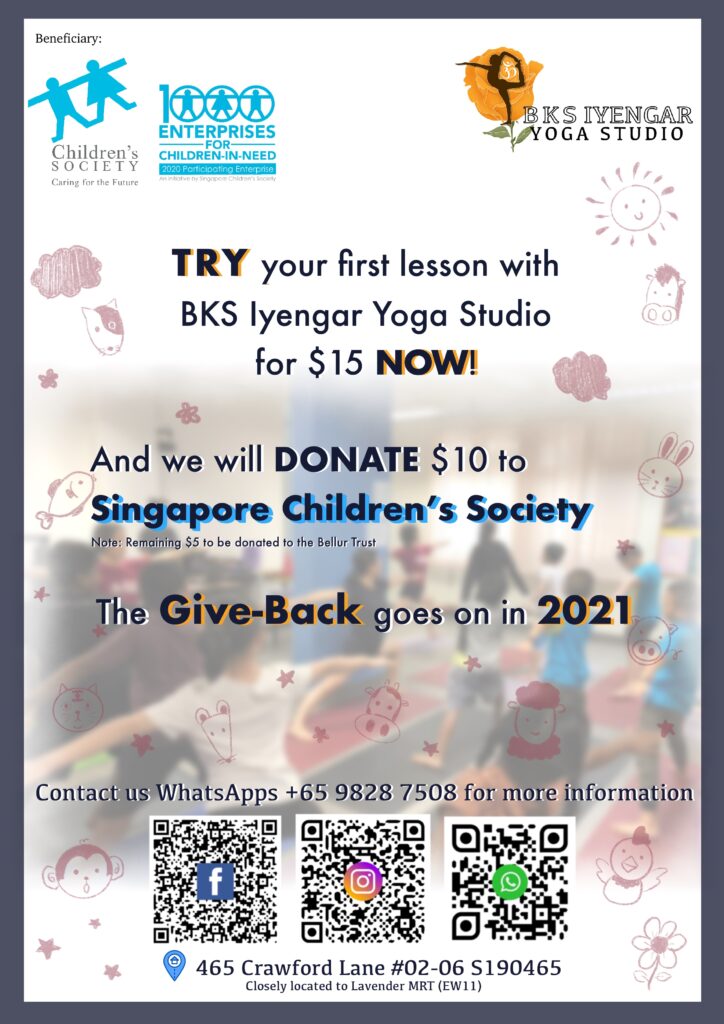 The Give-Back goes on in 2021.
Giving back to the community has always been our practice before the studio was established. We are continuously making it a more committed contribution.
In 2020, we had raised a total of $ 1,000 for the Singapore Children's Society and a total of $ 2,400 for the Bellur Trust.
Our studio side facing North Bridge Road. Please come up to the 2nd floor via the staircase of block 466.