Jawahar Bangera Sir has been Mr. Iyengar's pupil since 1969, and was one of the first pupils from Mumbai tasked by Guruji to teach yoga. He has accompanied Guruji on countless teaching tours around the world and has conducted a large number of yoga workshops himself in various countries.
Jawahar Sir teaches in Mumbai and he is one of the key drivers of the Light on Yoga Research Trust and is one of its trustees. The trust was formed more than 30 years ago and is active in promoting the learning and practice of Yoga in the Iyengar method.
His years of dedicated practice and study have helped make him a teacher who inspires us to move deeper into our understanding of Iyengar yoga.
From the students …
"The taught poses were simple and familiar. And, every pose was still a new learning experience for me."
"We were amazed to see Jawahar Sir using annotation tools in Zoom. He has humbly explored new knowledge to teach."
More reviews on Instagram!

Check your time zone here.
29/Apr/22 (Fri) 7:00-9:00 pm SGT
30/Apr/22 (Sat) 3:00-6:00 pm SGT
1/May/22 (Sun) 8:30-11:30 am SGT
Stay focused on experiencing the LIVE teaching & practice!
   Take notes, SELF-practice 
after the workshop.
Ask QUESTIONS pertaining to your own Practice.
All sessions – S$ 200 / participant
Open to Iyengar students with at least 12 months of regular practice.
Zoom recording of all sessions will be available to view until 15 May 2022.
  Click here to view available props for sale with a 10% discount to all registrants.
  What to prepare?
Get ready your props (

highly recommended for a better learning experience

) or its comparable items (please see the below table) – if available, or Jawahar Sir will suggest alternate options.

It's advisable to practice in a QUIET space with a WALL during the workshop.
Keep your room well-ventilated. If using an air-conditioner, recommend setting it at 25-26 °C and the ceiling fan at low speed.

Have your device(s) ready- charger/power adapter, phone, computer, iPad/tablet, laptop and/or TV. Zoom's laptop version has a variety of features the mobile version cannot support. Thus, it's

recommended to use LAPTOP.
Connect your LAPTOP to your TV (or SPEAKER) for a more compelling learning experience.
Keep your mobile OFF and away from your room.

If mobile is used to join the workshop, please set the ringtone "Off",  the screen at "Auto-rotate", and ensure sufficient battery  (or keep it to its power socket).

Video & Audio settings


1. Arrange the camera BEFORE turning on the video,


2. Set your video cameras to 'MIRROR' mode or you will get confused when asked to view your asana on Zoom
    Steps: Video Icon => Video Settings => My Video => Check the box of "Mirror my video"
3. Set audio volume to HIGH OUTPUT so you could hear without going close to your screen,
4. Stay "Muted" at all times unless you have a question 

Treat the online workshop as an in-person class. The

Reminders and Class Etiquette 

apply.

A reminder email from BKS Iyengar Yoga studio (support@bksiyengaryoga.sg) with the Zoom link to access the workshop will be shared 24 Hours before the workshop. Please sign in using your first and last name so that we can accept you into the meeting. Menstruating ladies please add

(M)

in front of your login name.

The Zoom meeting will be opened for joining 30 minutes before each session.

Ensure you have sufficient time to adjust your webcam/camera (full body is visible, avoid having a window or direct view of a light source behind you) and test your speaker volume.

WhatsApp

+65-9828 7508

if require further assistance.  
| | |
| --- | --- |
| Props (Ideal) | Comparable Items (Not limited to) |
| 4-5 blankets | towels |
| 2 belts | pant belt, scarf |
| 2 blocks | hardcover books with similar size, small stool, bed frame |
| 1 bolster | towels, paper towel rolls |
| 1 chair | solid dining chair |
* Cost is per piece price (except hooks & ropes). Please click image for more information.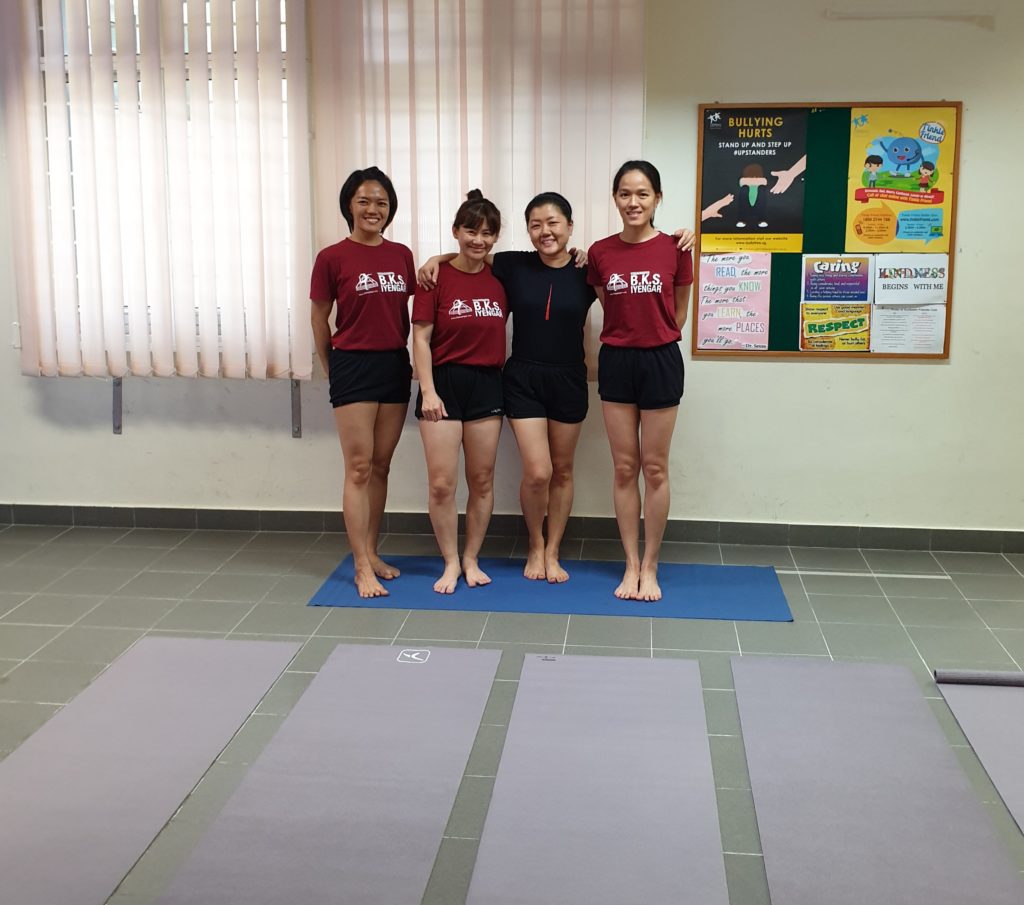 Yoga is so much more than just being on the mat (Asana practice). The first two limbs of Yoga, Yama (external ethics) and Niyama (internal ethics), are the true foundations in our search for well being. We practice not just for the benefit of ourselves, but with more strengths to help others.
As a long-term volunteer of Singapore Children's Society and practitioner of Iyengar Yoga, I find the opportunity to contribute to the community.
Therefore, the Trial class revenue is donated to a good cause. The $15 collected from trial students will be fully donated to Singapore Children's Society.
Come and TRY our class NOW, you will GIVE BACK to the community at the same time!
Watch Youtube video https://www.youtube.com/watch?v=utTD6aGAQlw to learn to use the mobile app.
Click here to install the booking app via your mobile. You may also use the same link to make a booking via website.
New students please select SIGN UP.
Existing students please log in with your registered email address. If this is the first time you do your own booking, please select "Remind password". A reset password email will be sent to your inbox.