IYENGAR YOGA ONLINE WORKSHOP 2021 WITH JAWAHAR BANGERA SIR II
Jawahar Bangera Sir has been Mr. Iyengar's pupil since 1969, and was one of the first pupils from Mumbai tasked by Guruji to teach yoga. He has accompanied Guruji on countless teaching tours around the world and has conducted a large number of yoga workshops himself in various countries.
Jawahar Sir teaches in Mumbai and he is one of the key drivers of the Light on Yoga Research Trust and is one of its trustees. The trust was formed more than 30 years ago and is active in promoting the learning and practice of Yoga in the Iyengar method.
His years of dedicated practice and study have helped make him a teacher who inspires us to move deeper into our understanding of Iyengar yoga.

Check your time zone here.
Asana Practice
26/Nov/21 (Fri) 7-9 pm SGT
27/Nov/21 (Sat) 3-6 pm SGT
28/Nov/21 (Sun) 3-6 pm SGT

Conversation with Jawahar Sir
11/Dec/21 (Sat) 3-5 pm SGT
Stay focused on experiencing the LIVE teaching & practice!
   Take notes, SELF-practice 
after the workshop.
          Ask question(s) on 11 December 2021.

   Friday's session – S$ 80 / participant
All sessions – S$ 250 / participant
Weekend sessions are open to
Iyengar students with at least 12 months of regular practice.
Zoom recording of all sessions will be available to view until 31 December 2021.
  Click here to view available props for sale with a 10% discount to all registrants.
  What to prepare?
Get ready your props (

highly recommended for a better learning experience

) or its comparable items (please see the below table) – if available, or Jawahar Sir will suggest alternate options.
It's advisable to practice in a QUIET space with a WALL during the workshop.
Keep your room well-ventilated. If using an air-conditioner, recommend setting it at 25-26 °C and the ceiling fan at low speed.
Have your device(s) ready- charger/power adapter, phone, computer, iPad/tablet, laptop and/or TV. Zoom's laptop version has a variety of features the mobile version cannot support. Thus, it's recommended to use LAPTOP.
Connect your LAPTOP to your TV (or SPEAKER) for a more compelling learning experience.
Keep your mobile OFF and away from your room.
If mobile is used to join the workshop, please set the ringtone "Off",  the screen at "Auto-rotate", and ensure sufficient battery  (or keep it to its power socket).
Video & Audio settings
1. Arrange the camera BEFORE turning on the video,
2. Set your video cameras to 'MIRROR' mode or you will get confused when asked to view your asana on Zoom
    Steps: Video Icon => Video Settings => My Video => Check the box of "Mirror my video"
3. Set audio volume to HIGH OUTPUT so you could hear without going close to your screen,
4. Stay "Muted" at all times unless you have a question 
Treat the online workshop as an in-person class. The Reminders and Class Etiquette apply.
A reminder email from BKS Iyengar Yoga studio (support@bksiyengaryoga.sg) with the Zoom link to access the workshop will be shared 24 Hours before the workshop. Please sign in using your first and last name so that we can accept you into the meeting. 
The Zoom meeting will be opened for joining 30 minutes before each session.
Ensure you have sufficient time to adjust your webcam/camera (full body is visible, avoid having a window or direct view of a light source behind you) and test your speaker volume.
WhatsApp +65-9828 7508 if require further assistance.  
| | |
| --- | --- |
| Props (Ideal) | Comparable Items (Not limited to) |
| 4-5 blankets | towels |
| 2 belts | pant belt, scarf |
| 2 blocks | hardcover books with similar size, small stool, bed frame |
| 1 bolster | towels, paper towel rolls |
| 1 chair | solid dining chair |
                                  SAFETY MEASURES
Following the latest advisory from Sport Singapore on 18 August 2021, vaccination differentiation safe management measures (VDS) have been applied at our studio from 21 August 2021 onwards. Our primary responsibility is to continue to safeguard everyone who visits BKS Iyengar Yoga Studio.
1.  Stay at home and see a medical professional if you feel unwell. Please don't force yourself to come to class.
2.  Temperature screening is not required but we have to deny your entry if you appear to be unwell.
3.  Check-in and check-out our studio via the TraceTogether app or the TraceTogether Tokens (SafeEntry Gateway (SEGW)).
      BKS IYENGAR YOGA STUDIO
      465 CRAWFORD LANE #02-06
4.  Students must produce Trace Together verification (one-time check) of their vaccination status for entry.
5.  Fully vaccinated students (two weeks after he or she has received two doses of Pfizer-BioNTech/ Comirnaty, Moderna, or any WHO EUL vaccines) are able to engage in the unmasked practice. Their Trace Together status must read VACCINATED.
6.  Unvaccinated or partly vaccinated students will be assigned to a clearly demarcated space and must always keep their masks on. Else, they must present a valid negative result on a Pre-Event Test taken within the past 24 hours at a MOH-approved medical service provider to engage in the mask-off practice.
7.   Please put on masks immediately after the practice.
8.   Hand sanitizer is provided at the front desk. Wash your hands with soap as and when is needed.
9.   After dropping your belongings in the props room, please stay at the designated spot. One set of yoga mat and props are kept at the designated spot. Students should not share the yoga mat and props.
10. All doors will be kept (fully or partially) open during class for better ventilation (low-risk environment).
11. You may want to bring your own mat or towel for an extra layer on the mat and prop.
12. We disinfect the classroom with several UV light sterilizers after every class. Please clean your mat and keep the props per the teacher's instructions after class.
13. Class booking is COMPULSORY. Please book online (Mobile App Booking to be introduced) or via WhatsApp.
14. Reservation for classes can be made up to 1 week in advance of the class date. Student size per class is limited, please refrain from overcommitting your time, as a consequence, to have to cancel your booking. 16 hours class cancellation policy is strictly applied.
15. There is limited space available for each class. Any multiple or regular booking cancellation at short notice is not encouraged. The feature is currently disabled in the system settings. Please WhatsApp if assistance is needed.
16. Reminders and Class Etiquette apply.
Please remain vigilant and observe safe distancing measures in place to minimize community transmissions. Namaskar!
* Cost is per piece price (except hooks & ropes). Please click image for more information.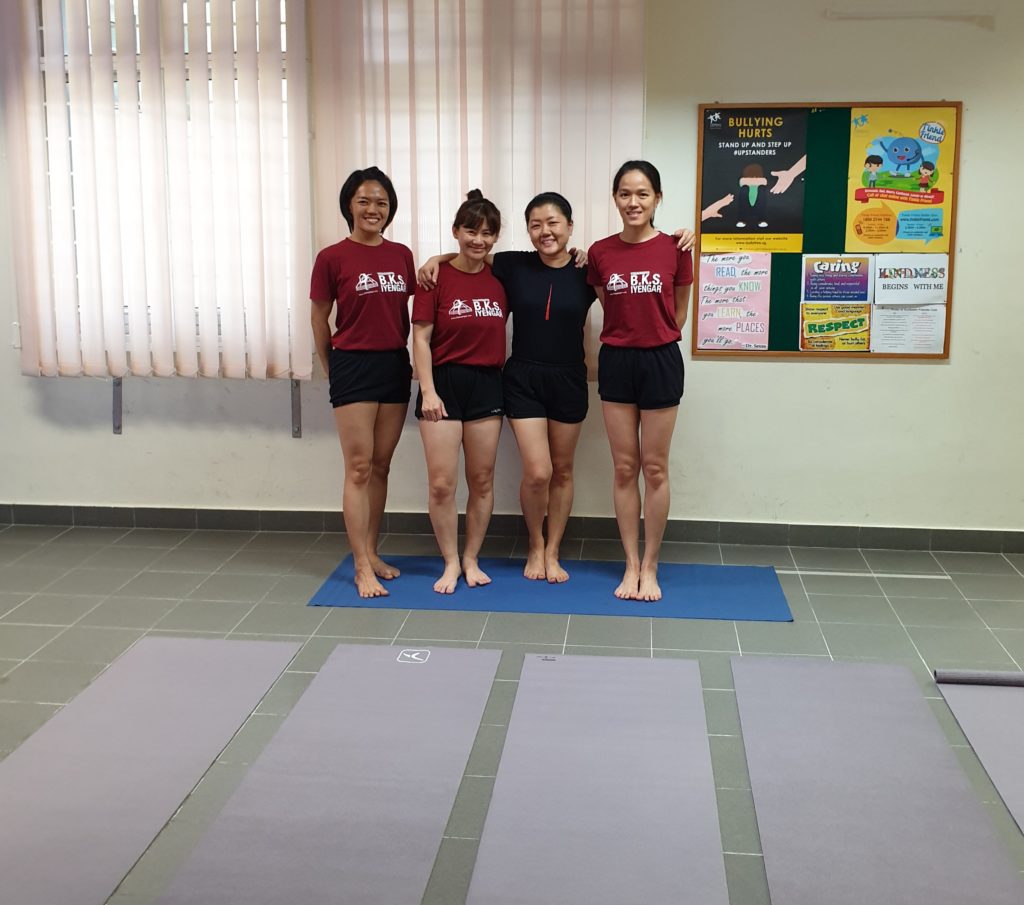 Yoga is so much more than just being on the mat (Asana practice). The first two limbs of Yoga, Yama (external ethics) and Niyama (internal ethics), are the true foundations in our search for well being. We practice not just for the benefit of ourselves, but with more strengths to help others.
As a long-term volunteer of Singapore Children's Society and practitioner of Iyengar Yoga, I find the opportunity to contribute to the community.
Therefore, the Trial class revenue is donated to a good cause. For every $15 collected from trial students, $10 will be donated to Singapore Children's Society and $5 to Bellur Iyengar Yoga Center.
Come and TRY our class NOW, you will GIVE BACK to the community at the same time!